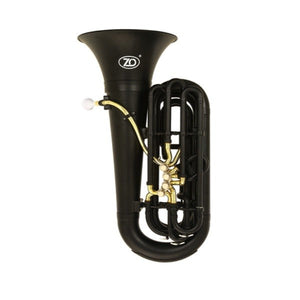 ZO Hybrid Plastic and Brass 3/4 Bb TUBA with 4 front action valves in EMPIRE BLACK Finish. Includes mouthpiece and bag.
ZO Next Generation Hybrid Plastic & Brass 3/4  Bb TUBA – lightweight and fun. Specially formulated polymer creates great sound and response. 4 x Super-Responsive Piston Valves encased in a fully brass valve section with brass leadpipe.  All instruments feature the coolest matt-finish colours, mouthpiece and Gig-Bag.
Ed says: "This tuba is compact, light, easy to play and actually sounds pretty good. The brass valve section is a game changer in the plastic tuba market with this tuba outperforming anything else I've played."