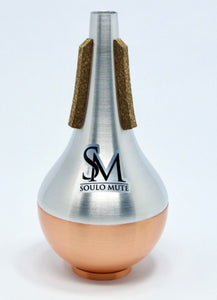 Soulo Mute's trumpet Straight Mute is undeniably the best trumpet straight mute on the market. It is endorsed by some of the biggest trumpet pros like Wayne Bergeron, as well as symphonies and philharmonics around the world. Some of the philharmonics endorsing it are The San Diego Symphony, Baltimore Symphony Orchestra, Saint Luis Philharmonic, Frankfurt Opera and Hongkong Philharmonic. Its success is largely due to the vast improvements on the typical straight mute issues, while preserving the traditional trumpet straight mute sound.

KEY FEATURES:
Patented hemispherical bottom with crimp-free connection, which allows for a perfect pitch!
Free-blowing, no air disturbance, aerodynamic design!
The highest quality COPPER, delivering a brilliant sound!
Lightweight and super easy on the chops!