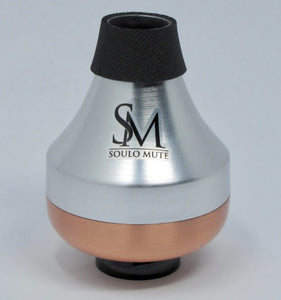 The NEW Copper Bottom Trumpet Harmon-Style Mute, by Soulo is the newest invention in the trumpet harmon mute world. Our customers and endorsers are unanimous that this is the best harmon mute on the market! The reason for this overwhelming success is the combination between a traditional Harmon mute sound and ground-breaking aerodynamic shape.

KEY FEATURES:
Our PATENTED Crimp-less Connection, which allows for a perfect pitch!
Will not fall out! No more breathing inside the bell!
Free-blowing, no air disturbance, aerodynamic design!
The highest quality COPPER and ALUMINUM, delivering a buzzy wah-wah sound!
Lightweight and super easy on the chops!