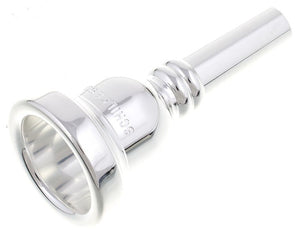 For more than a generation, Schilke trombone mouthpiece models have been accepted as the top choice for the serious trombone or euphonium player. These classic models feature comfortable rim profiles and unique cup shapes.
Models available:

51: A large bowl shaped cup producing a rich tone quality. Ideally suited for large bore tenor and orchestral performers.
51D: One of our most popular, this mouthpiece offers a very large "D" cup and is excellent for the strong player. It is particularly suited for the Euphonium, producing a full dark tone.
52: Slightly larger diameter than the 51, this mouthpiece produces a slightly broader sound.
52D: Like the 51D, the large "D" cup makes this mouthpiece ideal for symphonic trombone playing. Also a good choice for the Euphonium player requiring a larger diameter than the 51D.