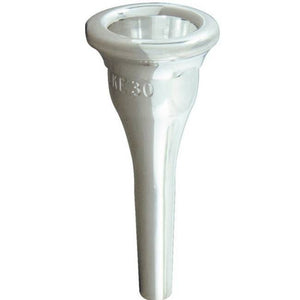 Schilke Standard French Horn Mouthpiece in silver plate.
The Schilke French Horn mouthpiece line was developed in collaboration with professional players and colleagues of Renold O. Schilke. These models were later determined to fill a specific need in the horn community from student, educator, to professional player. The rims and cups shape provide variety of options for the soloist, chamber, or orchestral hornist.

29: Offers a balanced option that is very adaptable to both the younger player and the professional needing a stronger upper register with a large rim diameter, standard rim contour, cup, and smaller bore.
30: The original Farkas Model, the wide rounded rim and fairly deep cup makes the 30 a good all-around mouthpiece for the experienced player.