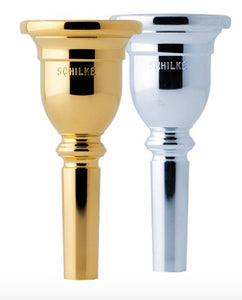 Concert Series Tuba Mouthpieces were developed within our custom mouthpiece division. Based on original Schilke models, these new models feature larger inside diameters which are preferred by the Orchestral tubist. The Geib model has a different cup shape the funnel shaped Helleberg models providing a more brilliant sound when desired.
 
Helleberg II - The "Schilke – Helleberg II" is made along the same lines as the 66,67, and standard Helleberg. It has the same Helleberg-style cup shape with the same inside diameter as the 69C4, a slightly tighter throat and standard backbore.
Helleberg II CLE - **NEW** Developed working with Yasuhito Sugiyama, Principal Tuba of the Cleveland Orchestra, the SHII-CLE features a design which is a modification of the classic SHII. A larger inner diameter, slightly deeper cup, larger throat, and subtly lighter weight combine to offer a vibrant & colorful tone with quick response.