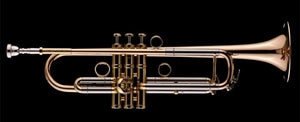 Schagerl Academica Trumpet – James Morrison Jazz Model, Reversed Leadpipe, Gold-brass Bell, Lacquered finish, Genuine Schagerl Austria Mouthpiece and James Morrison Edition deluxe trekking case
"My idea behind the JM1 was to have a free blowing, expressive trumpet that allowed the freedom across the entire range perfect for jazz and improvisation. The Schagerl reverse leadpipe combined with gold-brass bell, Schagerl designed taper and tuning slides has developed the ideal Jazz trumpet and at the same time is still focused enough to adapt to any musical style. Many of the features on both my JM1 & JM2 instruments are replicated from my own gold plated Schagerl James Morrison Meister series!" -James Morrison.
No less a figure than James Morrison was the force behind the development of this trumpet model.
This is a trumpet which is perfect even for professional needs. the combination of its gold-brass bell, the "reversed leadpipe" design allow easy response, remarkable intonation and a focused, fat sound with brilliant timbre. Only an instrument with these features deserves to bear the name of James Morrison.