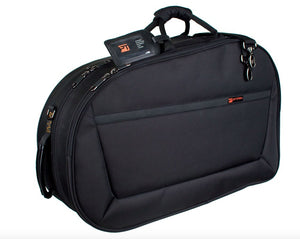 Designed to fit the smallest and largest wraps (including the Geyer wrap), Protec's new Screw Bell French Horn PRO PAC allows for a custom fit with sections for sheet music, a mute, and small accessories—all in a single lightweight compact case. The ultimate in transportation, the PB316SBDLX is carry-on friendly with most airlines, includes a padded shoulder strap, and is compatible with Protec's optional backpack strap (model# BPSTRAP) and optional trolley (model# T1). Lined with soft nylex, the interior can be customized using the various modular parts: body block with secure strap, lid body block, zippered accessory pouch, and double mouthpiece pouch. Each modular part features hook & loop fasteners that allow it to be positioned anywhere inside the case. The removable mute pouch features a drawstring closure and is securely held by retaining straps. The lightweight frame is made of shock-absorbing wood and is covered with water-resistant 1680 ballistic nylon.Comfort Features

Carry-on friendly with most airlines
Backpackable with optional backpack strap (model #BPSTRAP)
Includes padded shoulder strap and ID tag
Attachable to optional trolley (Model # T1)
Subway handle
Dual corded handle design with padded handle wrapExterior Features
Built-in organizer with two interior sleeves to hold pens, keys, and small accessories
QuickLockâ"¢ allows you to securely shut an empty case without zippering
Lightweight shock absorbing wood frame
Water-resistant 1680D ballistic nylon exterior
Front-side zippered pocket
Long lasting custom molded zippersInterior Features
Soft non-abrasive nylex lining
Modular body block with secure strap
Modular zippered accessory pouch
Modular double mouthpiece pouch
Removable padded mute pouch with drawstring closure
Modular lid body block

Spec:

Exterior Dimensions: 24w x 7d x 16h"
Exterior Pocket Dimensions: 24w x 2.5d x 14 to 16h"