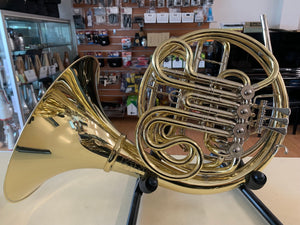 "The basic piece of equipment for the professional, perfect in its playing qualities and aesthetics. A particularly noble sound, smooth but with great dynamic range. As flexible and agile as a woodwind instrument. Has a very good feel to it, with smooth valve slurs and a very secure high range."
This is Engelbert's recommendation for a double horn. This horn comes in yellow brass, lacquered, with string action that can be set to stand in B-flat or F. It has two waterkeys.
BELL FLARE NOT INCLUDED IN PRICE.
We have several bell flares options in stock - please contact us for more information

save 20% on an Engelbert Schmid case when purchased with a horn.

There are numerous options to build your own Engelbert Schmid horn. Visist our Engelbert Schmid Horn Page to learn more or give us a call.