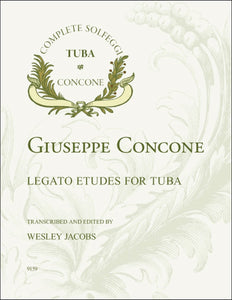 This 144 page book contains all of Concone's vocal studies transcribed for tuba. The songs are in comfortable keys for CC or BBb tuba. The songs work very well for F and Eb tuba—they are in the lower range for these instruments, but not too low.

These important studies are similar to the Bordogni legato etudes but are generally shorter. Most etudes in this book are one page long and can be perfected in a shorter time than the longer Bordogni studies.

To help the tubist learn to phrase and interpret music correctly there are no dynamics printed in the book. The tubist must interpret this music in the style in which it was written.

Concone Complete Solfeggi is appropriate for tubists at all levels and for instruments in all keys.