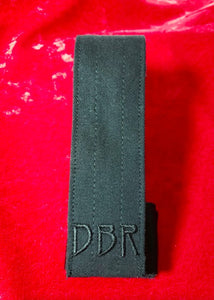 Hand crafted euphonium supports made by Valeria Wells in the USA. 
 
Faetures:

relieves weight bearing to reduce hand fatigue & cramping

 

 non-bulky

 

 strong & secure, yet soft & non-abrasive

 

 soft, absorbent, machine washable (100% cotton with soft fleece lining)

 

 fully adjustable to fit different brands

 

 fits inside case w/o needing to be removed for storage

 

 no need for professional installation, no damage to my horn, no need to remove the "pinky hook" from my horn



Diefes Brass Repair is currently stocking black Comfy Horn Straps with a subtle "DBR" embroidered logo.
 
Custom colours and embroidery is avaialble. Please call or write if interested.