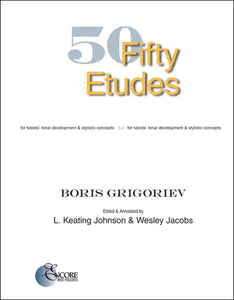 These are the only etudes Grigoriev composed specifically for tuba. They are very musical with a distinctive Russian style.

Grigoriev makes use of every major and minor key, legato and marcato styles, and wide range.

Although conceived for BBb tuba, these etudes work well for all tubas including CC, F and Eb.

With instructive text by L. Keating Johnson, additional text and musical examples by Wesley Jacobs, Grigoriev 50 Etudes is a comprehensive book for tubists.