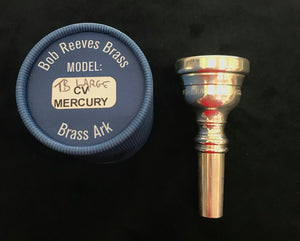 Trombone mouthpieces developed in colaboration between Bob Reeve and Brass Ark.
Models available:

Small Shank

11C, standard small shank "Mercury Blank"Â 24.8mm rim, medium shallow cup. Ideal for small bore tenor and alto trombone playing
Clarke 6.5AL, standard small shank "Mercury Blank", 25.35mm rim, medium cup. Based on the original 6.5AL mouthpiece developed in the 1930s, The Clarke is a versatile mouthpiece for all around playing. Works great in .508-.525" bore trombones


Large Shank Tenor

Jay Friedman Signature, large shank Friedman rim based on a Bach 3G, special V cup and backbore. As used by Jay Friedman of the Chicago Symphony. Mercury Blank Only
4G, one or two piece large shank 26mm rim, deep cup. Mercury blank
5G "Gladstone", large shank, 25.55mm rim, medium deep cup. Special backbore with a "J" throat. Gives a touch more resistance than a standard 5G.



 

Bass Trombone

"CV" Bass Trombone, large shank, Mercury blank29.5mm rim inner diameter, thin rim profile, deep cup with special efficient backbore and throat. Developed with a legendary bass trombonist who has the initials CV. 
"Mr. Bass Trombone" 1 1/2GÂ 27.15mm rim, "GR" cup
Orchestral Bass Trombone, large shank, 28.15mm rim inner diameter, medium wide rim, deep cup. A powerful mouthpiece that is extremely efficient while delivering the breadth of sound needed for the demands of the modern bass trombone.